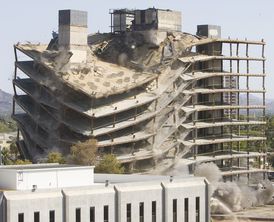 MORE PHOTOS
They blew up the old Ma Bell or QWest or U.S. West building on 3rd Street and Earl Drive in Phoenix, Arizona today.
The building was 10 stories tall according to the newspaper article. They ripped everything out of the building except for the steel beams and then blew it up.
I was in an apartment complex near maybe 5th or 6th Street and Earl Drive. The pigs chased us back to 7th Street and Earl Drive even though it was private property. Hell the pigs were even ordering people in their own apartments not to come out side. What jackbooted thugs.
Oddly the area had a large number of Latinos but I didnít hear one cop speaking Spanish. What racist jerks. The cops should have at least sent a few cops who could habla espanol! I didnít bother to translate and tell the Latinos what the pigs were saying! F*ck the pigs! I donít get paid to translate for jackbooted thugs! Although when the pigs told us it would be a minute before the building blows up I did say "sesenta segundas" so the Latinos would know the building was coming down in a minute.
The cops did give us a one minute warning and the building was blown up only 3 or 4 minutes past the scheduled 10 a.m. blow up time.
I thought the building would go down in one big blast! Of course I had forgotten the other high rise buildings I has seen blown up on the news.
The building was blown up with a whole bunch of small blasts. It took at least a second and probably several seconds for all the explosions to go off. They were just a bunch of little pops. I was expecting a deafening explosion. That didnít happen.
The explosions seemed to start on the west side of the building and slowly travel to the east side of the building.
Most of the building pancaked down on its self. Part of the south side of the building didnít pancake down like they planned and just fell towards the street. At least that is what a number of people in the crowd seemed to think.
There was a huge cloud of white dust that obscured the entire building and surrounding area after the explosion. It took at least a minute or two to partially clear away and several minutes to fully clear away.
And you could see a huge pile of rubble when the white dust cloud started to clear. It was all twisted steel I beams. Man it was cool watching the explosion.
The cops let us get close up to blown up building very quickly. I doubt if it was more then a minute before I got back to the area where the cops originally chased us out of!