Source
Lightning may have caused West Valley fire
by Ali Pfauser and Lily Leung - Jun. 26, 2008 09:55 AM
The Arizona Republic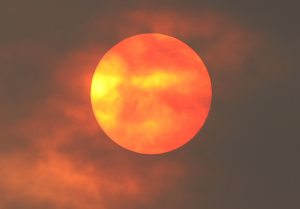 A large plume of smoke and smog visible across the Valley lingered in the air Thursday from a brush fire that erupted in the West Valley on Wednesday night and prompted the evacuation of 20 homes.
Fire crews from all over the state arrived to the scene in the early morning to help battle the blaze that's affected more than 400 acres near 91st Avenue just south of Baseline Road.
Crews from Surprise, Chino Valley, Cottonwood, Peoria and Central Yavapai County have volunteered their resources to fight the Gila River Indian Reservation fire that burned out of control due to a shift in strong winds.As of Wednesday night, fire officials said the fire is not a direct threat to the homes, and the evacuations are being used as a precaution because of the thick smoke and are voluntary, Gila River Fire Department Assistant Chief Mark Openshaw told Channel 12 Wednesday night.
The Surprise Fire Department sent three Wildland firefighters to the scene and a brushfire truck, while Peoria sent four firefighters one brush truck to the help put out the flames. A Sun City firefighter was also dispatched with Surprise.
Surprise Assistant Fire Chief Kevin Pool said the fire may pose a challenge to the firemen, given its inaccessibility. Pool said the Gila River bed is wide, big and overgrown by salt cedar.
"It's an interesting area," Pool said.
Two airplanes were dispatched Wednesday to fight the flames earlier in the afternoon, however they had to retreat as they are unable to drop the fire retardant after sunset, Openshaw added.
Crews are bringing in heavy machinery to cut a fire line to stop the blaze from spreading any further.
The thunderstorms and lightning are the first signs of the Arizona monsoon season, which began June 15th, according to the National Weather Service.
---
Brush fire still burning near Laveen
The Associated Press
A fire that has been burning for more than a day in the dry Gila River bed southwest of Phoenix continues to chew through heavy brush.
Gila River Fire Department Deputy Chief Dave Martin said the blaze near Laveen has burned an estimated 1,300 to 1,500 acres as of Thursday evening. The fire has been casting a huge pall of smoke visible across much of metro Phoenix.
Crews turned back flames as they raced toward Phoenix International Raceway at midday Thursday. The fire is now moving mostly to the southeast and is not threatening any homes.
Martin said 11 people heeded calls to voluntarily evacuate their homes Wednesday night. Those homes arenít at risk, but the residents had health concerns that could have been made worse by heavy smoke.
Several hand crews are now working the flanks of the fire. Earlier, heavy air tankers and helicopters dropped water and retardant on the flames.