A sign at a protest against American's meanest Sheriff that said
Death to Arpaio equals freedom for America
doesn't sound like a death threat to me, it sounds like a protest against Sheriff Joe Arpaio who probably is the worst Sheriff in the USA. Hey this is ARIZONA, you have a RIGHT to carry a gun in public.

But Sheriff Joe's goons arrested the guy anyway and stole his gun.

Wearing a black ski mask doesn't sound like a big deal either. Sheriff Joe's racist goons do it all the time in their raids when they round up maids, gardeners, janitors and cooks and anybody else they spot who has brown skin. They must not have any time to round up REAL criminals.

And refusing to talk to the cops isn't a crime. I do it all the time.

But the cops arrested this guy anyhow. I am sure the real charges are bad mouthing Sheriff "Joke" Joe Arpaio who is the worst Sheriff in America. Here is the article on the protest.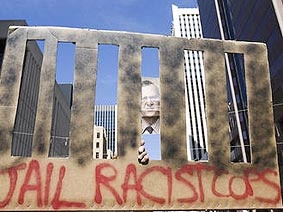 Source
Alleged death threat against Sheriff Joe investigated
by Lisa Halverstadt - Mar. 1, 2009 04:20 PM
The Arizona Republic
The Maricopa County Sheriff's Office is investigating a possible death threat against Sheriff Joe Arpaio that authorities said was written on a demonstrator's sign.
At about 9:30 a.m. Saturday,Veterans Affairs police spotted an unidentified man wearing a black ski mask, a black law enforcement-style raid T-shirt and rubber surgical gloves preparing to march Saturday in a protest against Arpaio and his immigration enforcement, said Deputy Doug Matteson, a sheriff's spokesman.
The man was carrying a loaded Glock semi-automatic pistol handcuffs, and a sign with the statement: "Death to Arpaio equals freedom for America," Matteson said.
Veterans Affairs officers saw the man attempt to park in the hospital lot at 650 E. Indian School Road and blocked him.
Matteson said the protestor didn't cooperate, so police confronted him and he fought with them.
The unidentified protestor was arrested on suspicion of disorderly conduct and possession of a concealed firearm. He was not taken to jail.
Officers confiscated the man's pistol, a mace canister filled with dye and a money clip that appeared to be a Los Angeles Police Department badge at first glance, Matteson said.
Sheriff's officials could not provide the man's name or other identifying information Sunday but Matteson said deputies were continuing to investigate the threat.
This isn't the first threat against the five-term sheriff.Arpaio has weathered dozens of them during his time as "America's toughest sheriff."
Matteson said that last year, the Sheriff's Office even investigated death threats from other countries including Mexico and Central America.
---
He had a gun so he MUST be a criminal! Of course that is reason enought to arrest him, search him - at least that's what the cops say. Anybody else would call it a civil rights violation.
Arpaio-threat suspect identified
by JJ Hensley - Mar. 3, 2009 12:00 AM
The Arizona Republic
Authorities identified Hugo X. Montaigu as the man cited Saturday on suspicion of disorderly conduct and possession of a weapon near the park where a large protest against Sheriff Joe Arpaio was taking shape.
Montaigu also reportedly had a sign that read "Death to Arpaio equals freedom for America," prompting the Maricopa County Sheriff's Office to investigate the incident as a threat on the sheriff's life.
Veterans Affairs Police officers encountered Montaigu on Saturday morning as he was leaving his car in the facility's parking lot near Seventh Street and Indian School Road. Because the lot was reserved for an event later in the day, officers asked Montaigu to move his car, said Paula Pedene, a spokeswoman for the Carl T. Hayden VA Medical Center.
Montaigu, 45, was in the process of joining a throng of protestors at Steele Indian School Park that marched through downtown Phoenix Saturday to protest Arpaio's immigration-enforcement tactics.
Montaigu became uncooperative and the VA officers cited him, Pedene said.
After they removed Montaigu's weapon and searched him to ensure he had no other weapons, they released him, she said.
That didn't sit well with sheriff's officials who said Monday that police should not have released Montaigu.
"In our estimation, that guy should have been arrested and booked into jail," said Lisa Allen, a spokeswoman for the Sheriff's Office.
VA police, who are federal agents, have limited authority to detain suspects.
They can detain people who come on VA property and are acting suspicious, Pedene said without specifically referring to Montaigu's case, which sheriff's deputies are still investigating.
If VA police discover a firearm while they have someone detained, they remove the weapon. If the suspicious person continues to act disorderly, police can cite them, Pedene said, but it requires approval from the U.S. Attorneys Office for VA police to make an arrest.
Allen said sheriff's deputies were investigating Montaigu's alleged death threat.
Montaigu could not be reached for comment Monday.