Sheriff Joe Sucks!!!!

Thousands march against Sheriff Arpaio

Thousands walk at Arpaio protest

by Astrid Galvan - Mar. 1, 2009 12:00 AM

The Arizona Republic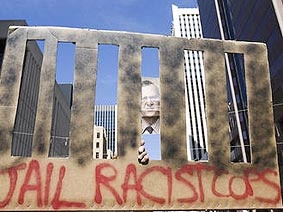 Several thousand people marched nearly 4 miles in central Phoenix on Saturday to protest Sheriff Joe Arpaio and the federal program that allows his deputies to enforce immigration laws.
Opponents of the sheriff marched from Steele Indian School Park to the Sandra Day O'Connor Federal Courthouse in a half-day event that also drew about 150 Arpaio supporters.
Organized by several groups, the march attracted protesters from Los Angeles to Miami. B. Loewe, with the National Day Laborer Organizing Network in Chicago, said Arpaio's highly publicized segregation of illegal immigrants from inmate housing last month took the sheriff's tactics to an "absurd level."
Among the march's goals were to stop the agreement, known as 287(g), that allows the Maricopa County Sheriff's Office to enforce immigration laws, end the federal program entirely and more broadly, to reform immigration.
Zack De La Rocha, former lead singer of the rock band Rage Against the Machine, marched with a banner that read "We are human." De La Rocha spoke to the crowd when it arrived at the courthouse, calling for Homeland Security head Janet Napolitano to end 287(g) and denouncing the sheriff. "Arpaio has brought shame on the state of Arizona," he said. "But he is bringing shame on the entire country."
For Arpaio supporter Glenn Fuller, a Phoenix resident, the protesters were a nuisance. Holding a "Way to go Sheriff Joe" sign, Fuller said protesters were ignorant and manipulated by organizations such as ACORN and the ACLU.
Arpaio held a news conference after the demonstration and said protesters were "just not civil," because they don't allow him to speak, a reason he said he does not attend protests against him. He vowed to continue enforcing laws. "We're not backing down," he said.
Although the march was peaceful, Sheriff's Office spokesman Doug Matteson said one man, who never made it to the rally, went too far with a loaded handgun, dye spray, a police-style clip on his belt and a sign threatening the sheriff. [ What a lie that is! The guy was clearly arrested for his clever sign, and that fact that he brought a gun to the protest, both which are legal in Arizona. Read about it here. ]
Matteson said he was cited and released by another agency.
Republic reporter Ofelia Madrid contributed to this article.